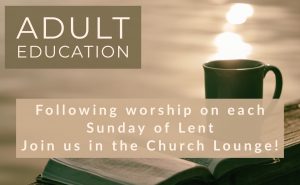 Shortly following worship on each Sunday of Lent, we will have a time for adult education in the lounge! Sessions should last about an hour and there is nothing to read or prepare in advance.
As we thematically approach the death of Jesus, it seems like as good a time as any to think about and plan for our own. What do you think might be said about you in your obituary? What do you want to happen to your body after you die? Have you had conversations about medical decisions and advance directives? Where should your stuff go? What should your funeral look like? What is a good death?
I'm excited to share with you about why I feel passionate about something that seems so depressing. You don't have to come if you feel uncomfortable and you don't have to come to every class, but I hope to start a conversation within our church, our families, and our community about death: the final and universal end to what it means to be alive.
I hope that the upcoming season of Lent is a meaningful one for us all and I hope that many of us can walk alongside each other as we accompany Jesus on his last few days.
Pastor Leia
Date/Time
Date(s) - Mar 17, 2019
11:30 am - 12:45 pm
Location
Peoples Presbyterian Church